Some "fresh" (a.k.a. newbie) copywriters seem to think "business opportunity" copy is the ONLY kind there is…
Possibly because it's the only kind they've seen, and it's where they model from (sadly, it's also where they get their misunderstandings from).
And there IS a definite charm to biz opp copy, no doubt about it.
It IS good to know how to attract that crowd of rabid opportunity grabbers.
A great training ground, for sure.
Now, I've been around that neighborhood a good few times, and it can be great.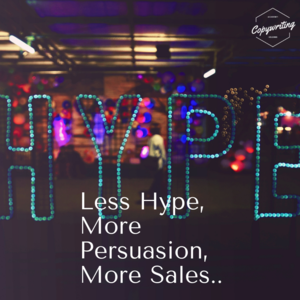 But before you get your opinion on…
Let me ask you this:
What makes a great bullet in sales copy?
A proven formula?
Or power words?
Super metaphor?
Probably some mix of all these, yes.
But if you do NOT base it all on
A really strong benefit your people actually want…
A proper sales argument
AND present it in a compelling way…
It's all going to amount to just a lot of noise, and very little sales!
It's 100% the same if you look at Gary Halbert's bullets, or Mel Martin's – it's not the power words and massive hype that powers them most of the time, at all.
It's the underlying IDEA or ANGLE, and knowing how to make it compelling and intriguing to the prospect.
INTRIGUE is the key word here.
You feel like there's something here… You can almost taste it
But it's only here to examine from the wrapper of marketing.
Buying is the price of admission to satisfy your curiosity.
If all you've ever written for is biz op, Clickbank and JV ZOO… you're missing out on a LOT.
Both in terms of business and as a career copywriter.
Because as attractive and active those spaces can be, it's also not "the real world".
Granted, they are great places to learn the ropes and get started.
But go to a big publisher or get some actual B2B clients and you're going to be a fish out of water without solid fundamentals and an understanding of how to put everything together to make the copy work.
Just because you know how to wield the hammer now… doesn't mean everything you see is a nail. Learn the craft. Be patient. It'll come to you.
You don't ALWAYS need to have massive visceral impact to make the sale.
Hilariously, a lot of people think Gary Bencivenga's olive oil letter is terrible… until they know who wrote it.
And even then, many doubt it's still successful (it is).
It's all about knowing what level of engagement and what kind of style works for your client.
So the next time you feel the urge the "critique" someone else's copy without understanding what's under the hood, the whole context of it, the choices made… resist the urge to blurt out "but it lacks energy and power words and and and…".
Just take a deep breath and go back to work. 🙂