Let me say just this as a prelude – I'll write a separate article on how marketers should tackle this corona virus window in time – for their own and their clients' benefit. Because THIS is no time to stand still.
But right now – let's just say this is also when business owners can panic, because the simple fact of the matter is you need MORE sales right NOW, and most cannot wait it out for an untold number of weeks and months.
Well, in these times, who ya gonna call? Direct response copywriters, that's who!
And that's NOT just because I am one (believe me my desk is stacked right now, and those working with me too) – it's because this is when ALL the NONSENSE falls away.
As Warren Buffet says, this is the kind of time when you see who's been swimming naked. In marketing and advertising, it would be the people who've been surfing the easy waves of social media visibility, brand based advertising and other things that afford you visibility and perhaps loyalty…
BUT when you need to sell the best offer, and sell it NOW, it's roll-ya-sleeves time and direct response is the weapon of choice.
As a pure specimen of this, let's see how we could sell the benefits of Tesla's super high grade air filtration system. Because as you can guess… THAT kind of products should be front and center RIGHT NOW. Why are they not?
Lack of focused marketing. "Trusting the market". "The product will speak for itself". And other assorted… well. Let's just say. WHAT IF your market is all messed up? WHAT IF nobody has the presence of mind to 'hear your product'?
Then you need to take the customer by their collar, give them a gentle shake, and go:
"Here you go dude, THIS is what you need, THIS is why you shouldn't live without this even now, and THIS is how you can get one – if you're fast, I can help you."
So here's the example:
"The ONE Method Proven By Tests To Keep You Safe
From Biohazards Much Worse Than Corona Virus"
TESLA's Military Grade Air Filtration System Has Already Kept
Everyday People Safe From Airborne Dangers For 5+ Years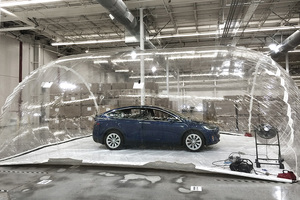 Tesla's Bioweapon Defence Mode helps you stay safe and sound in times of extraordinary events:
You can drive around the California wildfires, without inhaling any deadly fumes (many have done just that)
You can NOT worry about contracting a virus in the event of a pandemic outbreak
You could drive through the entire Corona virus infected Italian without a care in the world
You could EVEN survive a bioweapons attack around a war zone
Tesla's air filter in BDM mode also helps you literally breathe easy, every day of your life:
You can survive the allergy season – breathe freely while your car absorbs any pollen in the air (otherwise instantly causing severe symptoms)
You can drive around in super polluted urban areas like Los Angeles (or, even the dark clouds found in Chinese mega cities)
You can stop 'drinking in the smog' every day while sitting in traffic for hours (it WILL kill your lungs faster than it used to)
In the end, in these times… when you want to keep yourself and your family safe, a bioweapons grade air filtration system is not an option but a necessity.
So when you find yourself in a dangerous situation, you'll KNOW you and the people you love are 100% safe from any and all airborne dangers.
That's why Tesla's Bioweapon Defense Mode turns on at the push of a button, creating a very real protective bubble around you.
You already know the dangers will not go away in the future, they'll only get worse.
So go to Tesla.com and order yours today.