Hey!
When you send out your customary, monthly newsletter… how much time do you spend reviewing the words you used?
I thought so.
But don't feel bad, most other people don't either. Just the really successful ones do. 🙂
So feast your eyes on a pretty good example of how to do it right, by the Italian fashion house Zegna.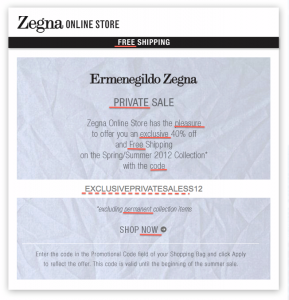 Did you catch them all?
Private (denotes exclusivity which always arouses curiosity and a desire to belong)
Pleasure (it's all about pleasure & pain… so a promise of pleasure works great, esp. in personal items)
Exclusive (again, wanting to be part of the 'cool club' is a big trigger although nobody would ever admit it)
Free (hey, it's the most powerful word in all of sales.)
Code (subconsciously implies there is a secret combination which you are now privy to – how would you NOT use it? )
Exclusive – Private – Sale (ok this is just ridiculous, but very well chained into a single phrase they're going to reinforce even more by writing it down and then typing it again)
Permanent – (we want permanent results, and this will allude to it, even when used in a different context)
Now (this is another hypnotic word that elicits a subconscious response almost automatically. great to use next to, ir inside, a call to action)
All very powerful, hypnotic words. Used consciously, they will work like mental dynamite. (See what I did there? 😉 )
Bear in mind though, that this is a promo email geared towards creating quick, big impact and get the reader to click through quickly.
If this were truly a text-based, story-based one with a narrative or at least some semblance of personality involved… you'd do things a little differently.
But having said that, this is a fine example in its own class, so do study it closely.
Years ago when I was first learning the ropes in copywriting, power words was the last thing I picked up on. Because even when you get everything right in an ad but fail to elicit the right emotion, the right visceral response… you need words that are proven to do just that!
Here's to your powerful ads!